Welcome to Alpha 6: Winter Fest
Written by thephantom on Dec 03 2021
Welcome to Winter Fest 2021
Nicholas has returned to the Domhan Outpost docks in search of heroes to help him with his problem: the Elf Helpers he hired turned out to be goblins, and have stolen all this year's presents from the workshop. You are being asked to head to the Isles of Mischief and get back as many presents as you can. But this year we learn more about why the goblins are stealing the presents... there is some mysterious ancient force driving the goblin's greed and it is up to you to figure out what it is and stop it.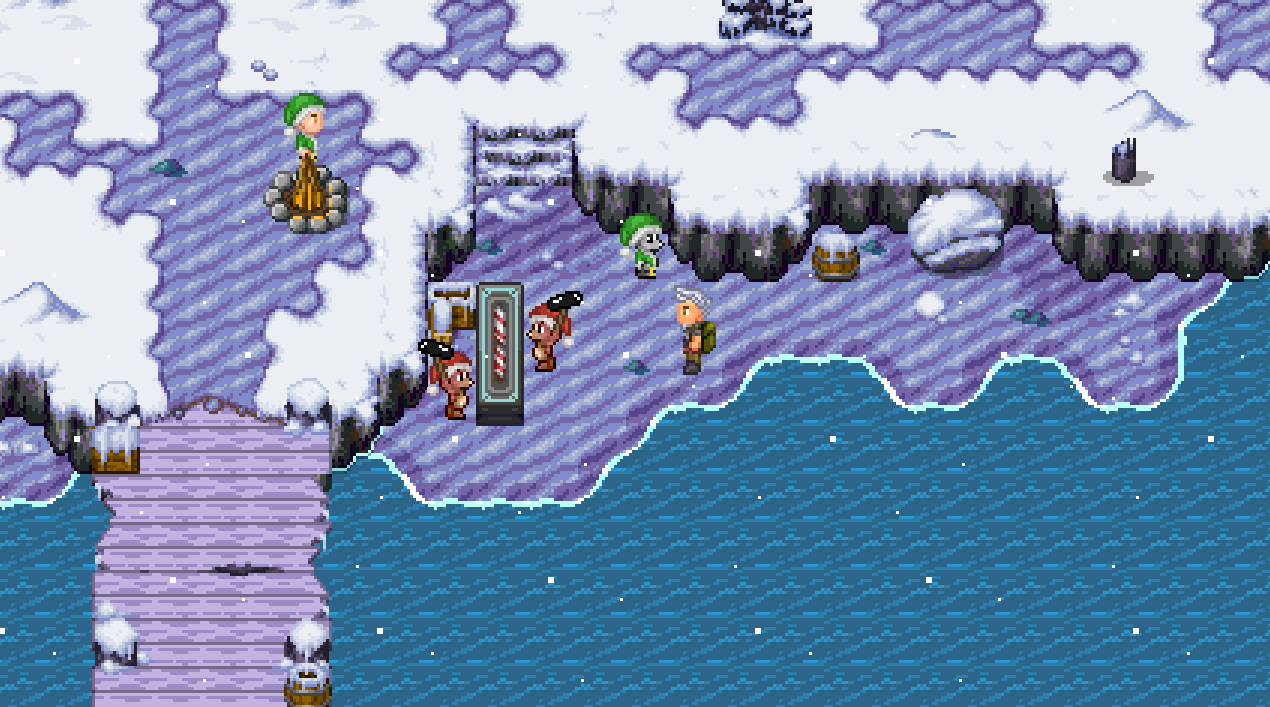 Event Runs December 1, 2021 until January 4, 2022.
Patch 0.6.0 - 0.6.4
Change Log:
New Zone: Isles of Mischief

Areas:

The Ice Floes - the western ice sheets contain a large goblin settlement and smaller islands with treasure to find.

The Forest of Mischief - the eastern side of the main island, featuring another large goblin settlement and many clusters of goblins.

The Ice Summit - NEW - the high mountain summit at the top of the main island. Find a couple more goblin settlements and some mysterious ancient ruins.


Sendrik the Sealian - NEW - the first Sealian NPC has been added to the game. Find him at the top of the mountain summit. He will open up a shop (after you help him) and sell you a new Brewing Recipe and a rare, limited supply costmetic costume and hat. Keep your eyes out!

Dazlin and the Dizwin Candysmiths - NEW - Help Daz get back Pip and Pop and he will help you forge Candy Lances, a new weapon made out of Candycane Fragments. These weapons have random stats and are some of the best weapons in the game currently.

Axel the Snowman - Help Axel by delivering letters to all the various snowmen found around the Isles of Mischief and get rewarded for your efforts.

Jack - NEW - Helper Jack has a daily task for you to collect 10 Stolen Presents and return to him. If you do so he will give you [Winter Pudding] which provides a decent Power buff for 20 minutes.


Winter Fest: Event Rewards

Spend the "Stolen Presents", you find laying around the Isles (respawn daily) and by defeating goblins and looting the spoils, to unlock some awesome cosmetics this year:

Green Winter Hat - NEW
Green Winter Coat - NEW
Winter Hat (red)
Winter Coat (red)
Pet: Snowman
Pet: Flurry - NEW
Food: Candy Canes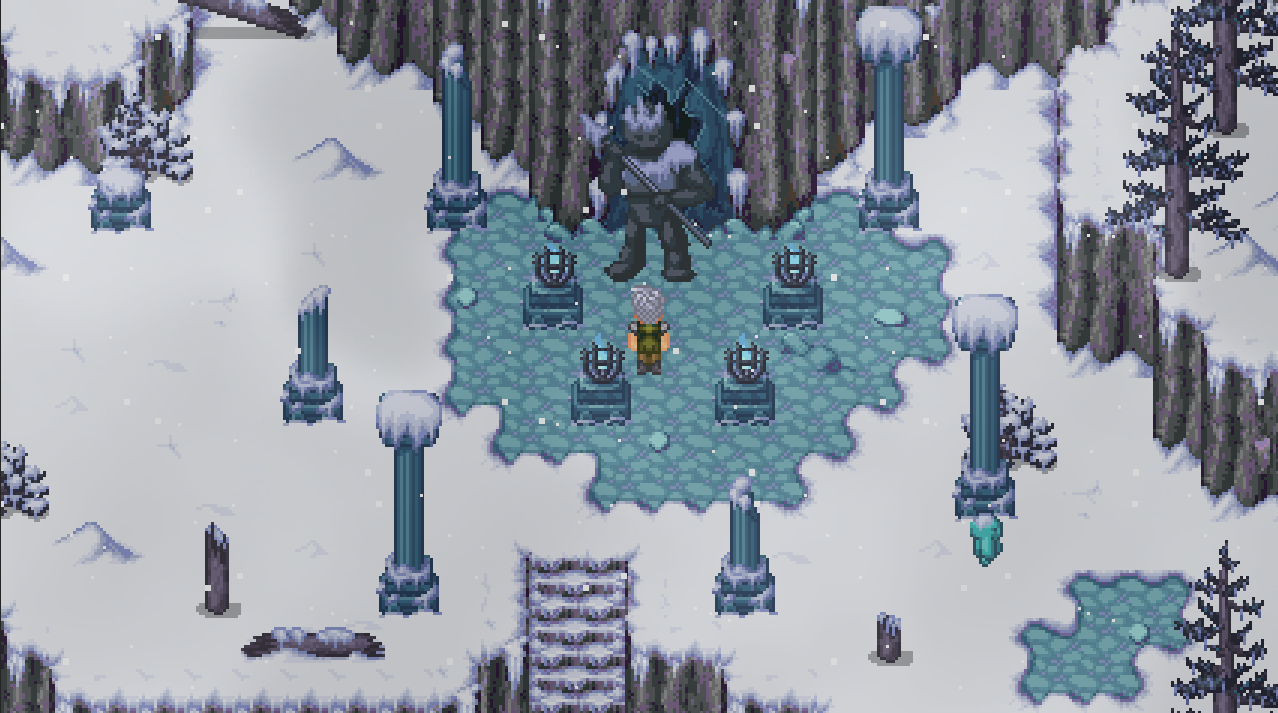 New World Boss: The Ice King - found at the top of the mountain summit, bring 4 [Enchanted Lanterns] found on the goblins carrying them, and light the 4 baziers to bring forth the boss. Be sure to bring a party as this is a boss designed for a group of players.

New loot can be found on this boss.
A daily quest to defeat the boss every day for bonus Stolen Presents is also available.


New Alpha Goals - new goals centered around Winter Fest are now available:


Kill 500 Elf Goblis - to earn 3 Alpha Tokens
Find an Ice Circlet - to earn 1 Alpha Token
Kill Ice King 5 Times - to earn 1 Alpha Token
Forge 3 Candy Lances - to earn 1 Alpha Token

These goals last until the end of the event. Additional goals will be added as the month progresses.


Patreon Only Perks - NEW -


Traveler's Backpack - NEW - Increases your weight limit by 100. Requires an active $10 or higher Patreon membership.

Blacksmith and Mining Preview - Check out the two new professions before everyone else. Requires an active $5 or higher Patreon membership. This feaure will be made available to everyone else at the end of the month / next month.

Developer's Note: These new Patreon Only Perks have been designed to help drive funding for the game while we are actively developing it for Early Access release next year, Spring 2022. We need to fund raise more money to help pay for the various licenses and freelance talent we will need to hire to bring the game to completion. Thank you for your support! Consider joining the Patreon today.
Both perks are being carefully considered against Pay To Win, as we pledge to not add any Pay To Win to the game. As such there will be backpacks available in-game (for a grind) before the Early Access release. We run all monetiziation ideas past the community and you are able to provide your feedback in Discord.
Welcome everyone to Alpha 6 and please enjoy Winter Fest! There will be more updates in the coming weeks fleshing out Alpha 6, keep your eyes out. Alpha 7 will be released (if all goes to plan) next month, so keep up on your Alpha 6 goals as best you can.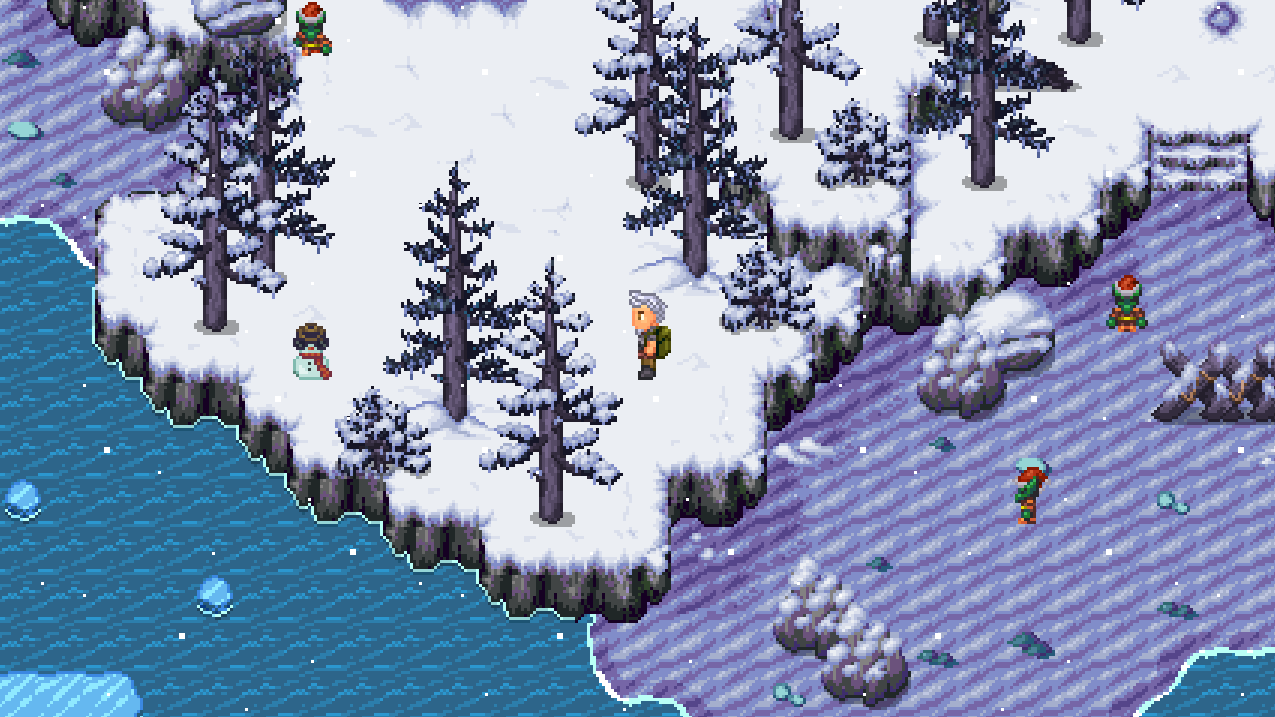 What's Next?
Player Spells - Each class will gain an additional base skill and a new element (lightning) will be added to the game. Plus all elements will gain an additional spell.

Ice King: Hard Mode - Thought the boss was too easy? Wait until you see Hard Mode! It will offer an exclusive pet for those who are able to defeat it.
Thank you everyone for your continued and ongoing support. I am humbly blessed to have each and everyone of you. Seriously from the bottom of my heart, thank you for believing in me and supporting Aether Story! I hope you all have an amazing holidays and New Year! See you in game!
---
What are you waiting for? Download the game and check out the game's latest Alpha patch now!
You may download the early Alpha access easily through itch.io:
We are really enthusiastic to have you play our game! Being a small indie game
dev company, we depend on your support to keep us going.
Please consider making a small donation to help us fund the continuous
development of Aether Story! It will really help us out.
If you already have Alpha Access, head on over to the Game Downloads page and download the new Launcher Setup Installer!
And don't forget to join us in Discord.gg/phanxgames to share your suggestions, find other players to play with, and hang out.
Comments
Post Comment
You need to
Login
in order to comment.