Halloween 2021 - Patch 0.5.8+ Notes
Written by thephantom on Oct 02 2021
Halloween 2021
Halloween is here in Aether Story once again. And with it the barrier between the Spirit Realm and living grows thin. Find Witch Sobbana in the Domhan Outpost, near the Bank, to get started on your seasonal activities.
The event runs from Oct 1 to Oct 31.
This month's Donation pet is Ghostwin. A Dizwin Ghost. He is ready to aid you in your adventure into the Spirit Realm by being by your side through the spooky periles that await. Be sure to donate at least $10 this month to unlock him. He is a limited time pet that you can only get this month. Support the development of the game with your generious donation and help us keep developing awesome content!
New Zone: The Spirit Realm
This seasonal zone will only be available during the event duration. Providing the hub for all your Halloween activities.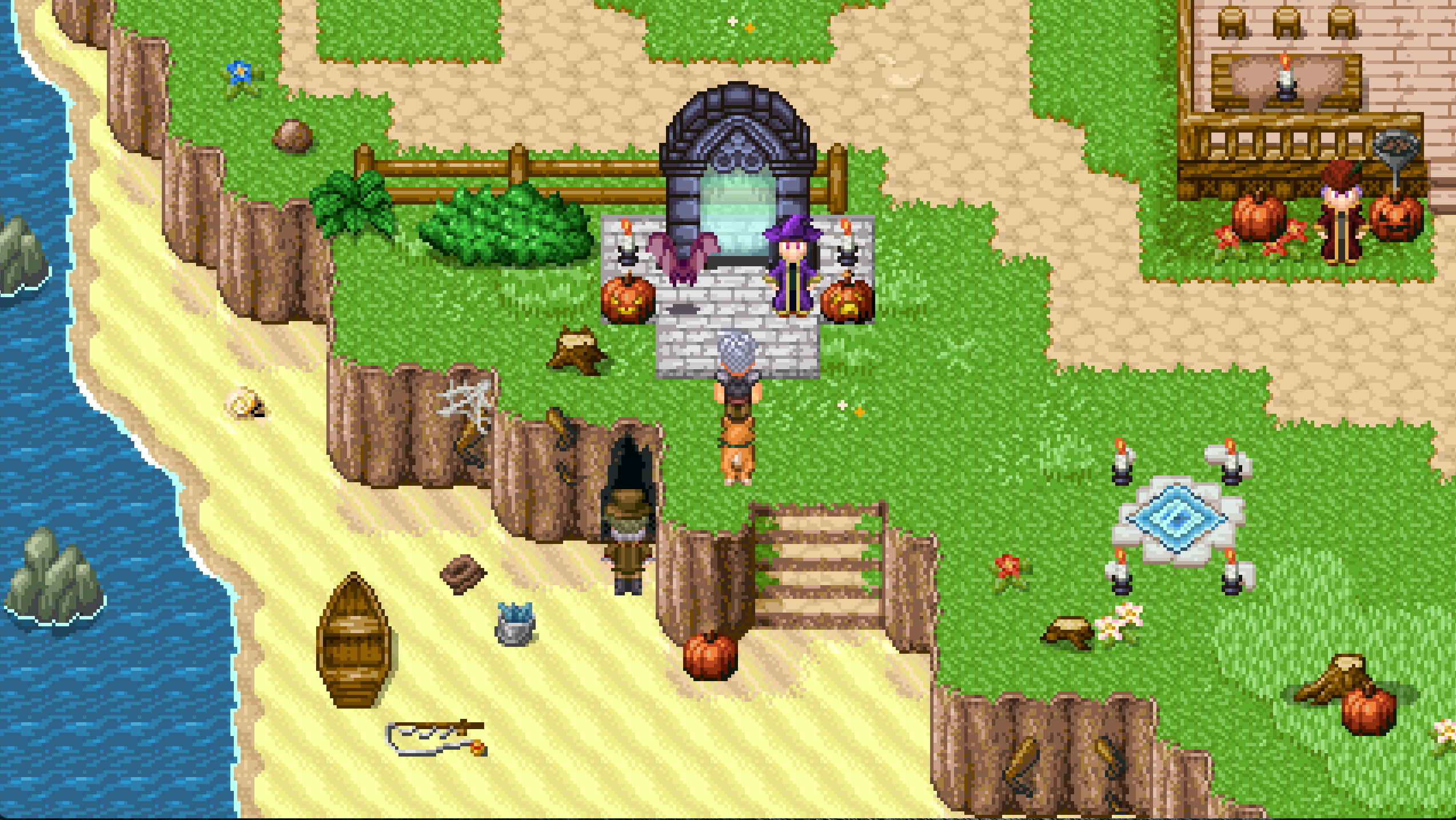 Your primary objective will be to collect as many Spirit Charms as you can. This currency is used to buy the Halloween Event items. The methods of obtaining Spirit Charms include:
Spirit Cages - glowing cages scattered throughout the Spirit Realm may be looted daily for a Spirit Charm.
Bloodchests - these chests are locked with bloodvines but can be looted once a week for Spirit Charms.
Death's Maze - entertain death by running through his maze, if you can successfully complete the maze you will get Spirit Charms, you may also find additional Spirit Charms within the maze if you look hard enough. The mazes can be ran immediately back-to-back with no time gate.
There may be other ways of getting Spirit Charms through seasonal quests. These will open up and unlock as the month progresses. Including the opening of the Halloween Dungeon!
Death's Maze from last year is back but with some changes: It is now a group activity, you no longer have to enter it alone. Only one player needs to find the Spirit Orb for everyone to escape. The Spirits within the maze are currently player specific and are not shared, but this may change. Please join Discord to provide your feedback on how you would like the mazes to be improved for multiplayer play.
Halloween Rewards
Pet: Demon Pete - 600 Spirit Charms (new)
Costume: Spirit Greeter Robes - 600 Charms (new)
Pet: Spooky Bat - 600 Spirit Charms (from last year)
Mask: Witch Hat - 600 Spirit Charms (from last year)
Recipe: Pumpkin Pie - 100 Spirit Charms (new)
Candy Apple - 5 Spirit Charms (new)
Note: In order to craft the Pumpkin Pie recipe you will need Pumpkins. Pumpkins are a season ingredient that currently are only available from the Spirit Realm. They are a drop from monsters and are sold by the Shadowkin Vendor.
Event Schedule
Oct 8 - Halloween Dungeon and Leaderboard will be released
Oct 15 - Challenge Mode of the Dungeon will be released
Oct 22 - QA with the Developers Stream (Friday at 1pm EST)
Oct 30 - Halloween Party Stream with giveaways and in-game activities (Sat at 1pm EST)
Status Effects
This patch has also added the foundation for Status Effects, which may be more commonly referred to as buffs and debuffs. Over the coming Alphas Status Effects will be expanded to include a lot more functionality and be the core to our game's mechanical systems. For now you can play with (and test) the foundational core by eating cooked food. Most cooked food items now provide a 20 minute buff that increases your stats.
Food buffs do not stack. The more powerful of a buff, the more it will overwrite lesser buffs. If you need to apply a weaker buff, you may cancel your status effects by inspecting yourself and hitting the "remove effect" button. Then eat your lesser food.
More on status effects in a dedicated blog post soon.
Misc Changes:
All teleport scrolls now have 0 weight. Kharl has figured out a way to make his ink weightless.
Two new teleport scrolls have been added to the game: The Slime Glade and Hollow Claw Passage.
Most cooked food items now provide a buff, making cooking extremely beneficial.
A new cooking recipe has been added to level 3 cooking called Fizzy Milk. It may be found from the bartender in the Domhan Inn.
Known Bugs:
Bloodchests cannot be opened if you kill all the bloodvines one-by-one. A fix will be coming soon.
Monsters within the Spirit Path are not respawning.
Shadowkin Vendor does not have his full loot table spawning.
Food provides the buff after it heals, it should be the other way around.
---
What are you waiting for? Download the game and check out the game's latest Alpha patch now!
You may download the early Alpha access easily through itch.io:
We are really enthusiastic to have you play our game! Being a small indie game
dev company, we depend on your support to keep us going.
Please consider making a small donation to help us fund the continuous
development of Aether Story! It will really help us out.
If you already have Alpha Access, head on over to the Game Downloads page and download the new Launcher Setup Installer!
And don't forget to join us in Discord.gg/phanxgames to share your suggestions, find other players to play with, and hang out.
Comments
Post Comment
You need to
Login
in order to comment.