June-September 2018 Dev Entries
Written by thephantom on Oct 04 2018
I haven't made any dev entries the last several months. The main reason was that I felt overwhelmed just trying to work, much less having the energy to write blog posts. But I am going to make a better effort at making blog posts. This blog post will serve as a catch up post summarizing what we have been up to all the way back since May!
May
May Work Hours:
Total work hours: 150 hours
Hours streamed: 62 hours
May was a month where I was working extremely hard on getting the encounter and aggro systems working, with a lot of live dev streams where I was able to work on the progress together with the audience! The start of this month we decided to change the battle system into a more tactical based system. We also started work on a new character graphic style by designing new hair styles, and new monsters graphics were created allowing monsters to walk around the map, see below.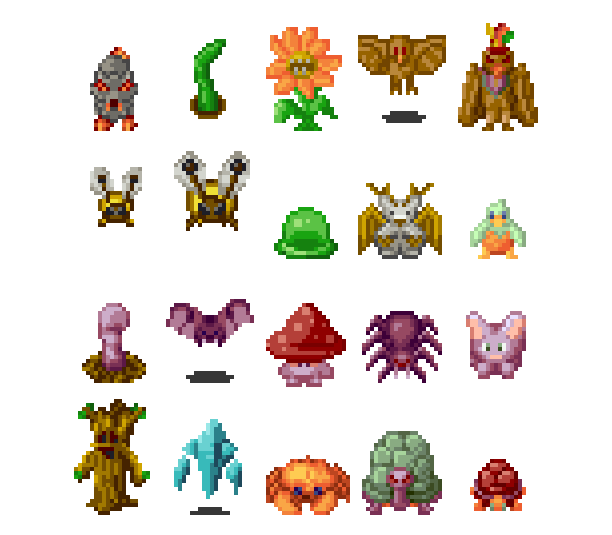 June
June Work Hours:
Total work hours: 85 hours
Hours streamed: 14 hours
June required a lot of time off stream designing the new playable classes and battle system, with a lot of meetings and planning on paper. All of which doesn't lend itself well to live dev streams. But the few streams we did have we wrapped up the encounter and aggro systems. Sadly I was stuck on some programming problems which caused a massive lack of motivation: I tried to implement interpolation for the camera panning, but it just didn't work and I had to revert it.
July
July Work Hours:
Total work hours: 176 hours
Total streamed hours: 88 hours
July had a lot of time spent off stream planning the new paradigm shift of getting a playable demo ready, but on stream we worked on a lot of pixel art and wrapping up some encounter code. The previous month of June was not a good month for motivation. After reevaluating our goals, the idea to get the game playable, testable, and in the hands of fans like you, was the solution. Not only to get you excited but to get us excited again about the project. And it definitely did. Going from 85 hours last month to over 176 hours this month... shows how much of an improvement this made in our morale.
July also marked the entry of a new team member to the team: Tondorian, also known as Patrick. Tondorian joined us as a programming and developer to assist me with this large project. Together we began planning out the Graphic User Interface (GUI) for the game, such as the components used to make menus, message boxes, etc.
August
August Work Hours:
Total work hours: 79 hours
Total streamed hours: 17 hours
August was a month all about maps. The first playable areas of the game were planned out at a high level, and we realized that the maps were going to be large. And tests of the in-game map engine showed that large maps loaded too slowly. So the map engine was re-written to load maps completely differently. Instead of creating object instances for each tile on the map we keep the tile data as simple integers in an array at all times, and look up the tile data using the integer. It sounds simple, but it made maps load from 8-10 seconds down to under 2 seconds. And with that we decided the game could support maps upwards of 250x250 tiles.


Tiles are drawn simply as "dots" on the left, and then they are
automatically merged together in the "auto tile" process, which connects the
edges together automatically saving a lot of time.
In order to support this more lightweight map format we needed to pre-calculate "auto tiles". An "auto tile" is basically a tile that automatically fits its borders and edges together without having to manually place all the different combos together manually, see image above. To pre-calulate "auto tiles", I modified the map editor tool needed to finalize maps before they are added to the game. This also added the cool ability allowing us to preview "auto tiles" while we are making the map, instead of only seeing it while in-game.
This month we finished the Outpost town map. You can learn more about the Outpost creation process in the blog post: New Goal: A Playable Demo and the newly released Youtube Video: Outpost Theme.
September
September Work Hours:
Total work hours: 98 hours
Total streamed hours: 28 hours
With the Outpost map complete and our map workflow finalized we started planning out the next four maps that are surrounding the Outpost town. Mark started working on fleshing out the "Southern Forest" map which was the second map to be created. The map is not yet finished as it needs to be polished up, but when it is polished we will reveal more details about it.
The start of September I started working on costumes for the NPC's and characters. I created a couple dozen unique costumes concepts, none were animated. See below to see a few.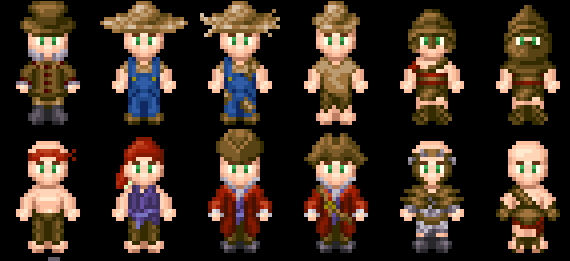 September also marked our site moving from our previous webhost to a new server which is dedicated to just the website and account services. I was fed up with slow response times randomly, sometimes the site would take up to 15 seconds to load pages. Unacceptable. But the new server everything loads very quickly. Hurray!
Once I got the site transfered I returned my efforts on making pixel art. I started working on the interior tilesets for the houses and buildings of the Outpost. See below to see a preview of this work.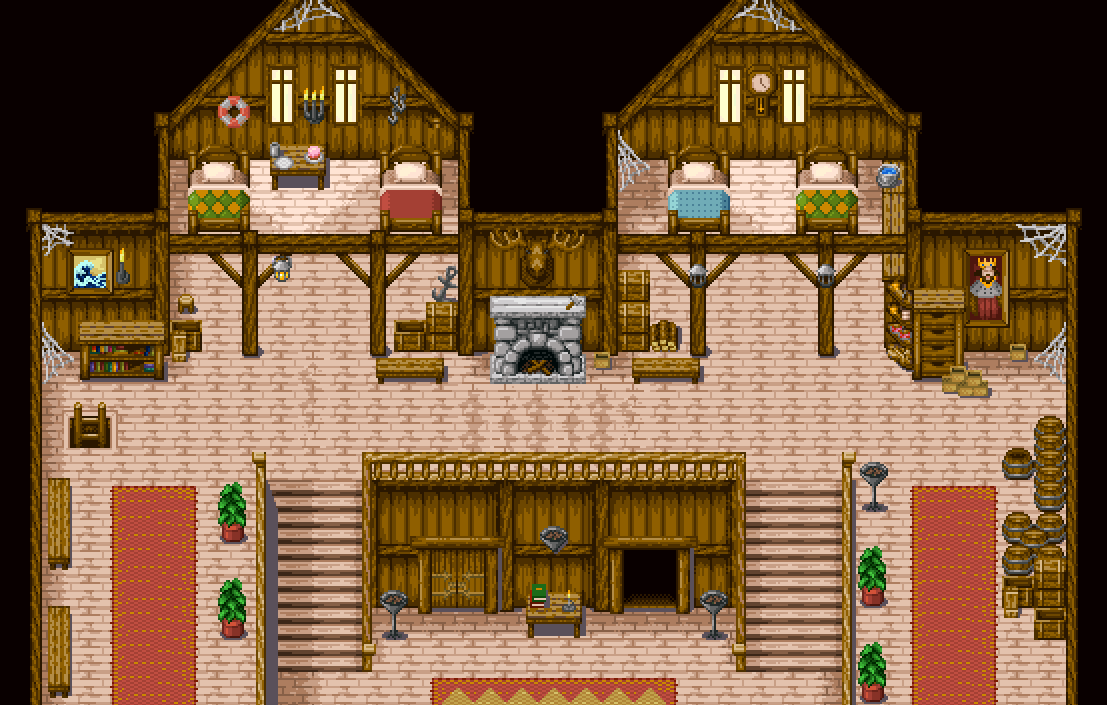 And finally, the month was wrapped up with a birthday party on stream. It was great to celebrate my birthday with you guys, and if you missed it, feel free to join me on the dev stream in the coming days and wish me a happy belated birthday! Thank you!
Comments
Post Comment
You need to
Login
in order to comment.