May 2018 Dev Entry
Written by thephantom on May 04 2018
This last month of April was a very busy month, even though a lot of the work was done off stream. This month funding rewards were reworked offstream, but on stream we worked on getting entities interactable, a minimap with icons, and worked towards getting encounters into the game!
April Work Hours:
Week 1 (1st-7th): 29 hours
Week 2 (8th-14th): 39 hours
Week 3 (15th-21st): 42.5 hours
Week 4 (22nd-28th): 41.5 hours
Week 5 (29th-30th): 21 hours
Total work hours in April: 173 hours! With a total of 104 hours streaming live development!
Funding Reward Rework
I fully intended on making this announce as its own blog post, but I will mention a bit about it now.
The Funding Rewards have been completely reworked for donators and Patreon patrons. Previously rewards were given based on single contributions (either monthly through Patreon or one time donations). What was a result of this was that if you donated $10 five times you would never get the $50 reward since there was nothing based on Lifetime contributions. And now this has changed!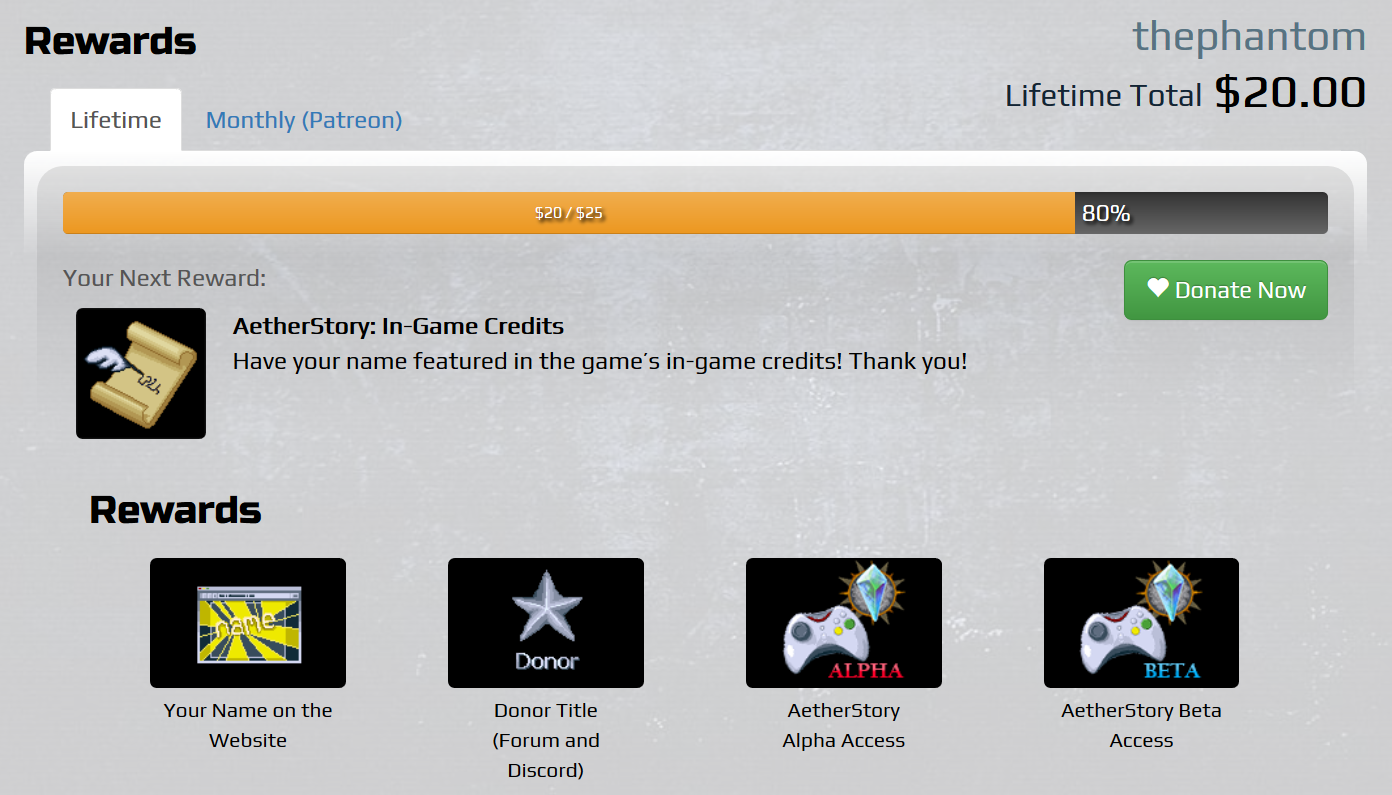 Now announcing Lifetime contributions! All your donations you have made will now accumulate rewards at certain amounts! And this awards those who are donating a small amount each month, or here and there. Because of this change I could simplify the Patreon Reward Tiers, which were not only complicated but not that rewarding. Just filling your accounts with tons of vouchers and keys that you would never need. Now the Patreon rewards focus on monthly perks that will expire if you do not keep pledging on Patreon. But you will also be working towards Lifetime rewards that you will be able to keep even if you stop pledging.
Also, just in case you were worried, you will be able to keep all your current Patreon rewards from the previous system, grandfathered in. If you haven't done so already, head on over to the Rewards page within your Phanxgames Account and check out all the Lifetime rewards and the new Patreon reward tiers! Let me know what you think!
Consider helping to fund the development of AetherStory by either pledging to me monthly on Patreon or send a one time donation. Every bit helps! Thank you!
Developments on Stream
The big goal for this month was getting entities to be interactable. Meaning allowing you to open a chest, step on a pressure plate, or to push a box around. The biggest challanege of this goal was to create a reactive state system for each entity. How I acehived this was to make entities have states that have conditional statements that decide which state it should be in. Each condition is based on a series of variables and these variables are then registered with an event listener. So when a variable changes all entities that care about that variable will re-evaluate their states to see if they should change. This turned out great, and all of this complexity is hidden from the game design perspective, so adding new entities is extremely simple! Hurray!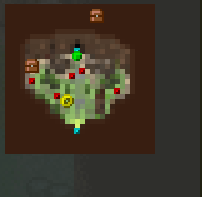 The next step was to get the minimap back into the game. But to also show icons where different entities are standing. And for the first time I added a cool feature: entities can have special icons that over-ride the default ones. Allowing us to have some entities have an icon that better represents them. I may expand on this in its own blog post. But for now check out this screen shot of the new minimap system with some example entities and icons. Note: we won't show all entities or hidden chests in the final version of the game, this was just for testing.
The last part of the month was pushing to get encounters into the game. Encounters meaning the monsters that are on the map that when aggroed bring you into battle. Unlike most RPG's we aren't going to have Random Monster Encounters: meaning every step you take won't have a chance to make you enter a battle. Instead we will show the monsters on the map. But when you aggro the monster, meaning making it angry, you will be transfered to the battle screen. So battles will not take place on the map you explore. This is to reduce clutter with other players who may also be fighting. And by the end of the month I did get a basic prototype of the aggro sytem in place! I created aggro radiuses around a few encounters and when you make too many steps near a monster or stay near it for too long it will attack you! This opens the door for the goal of next month: the actual battle system!
Special Thanks to the Patrons who supported me this last month:
Grant, Daniel Ge., Alessandro, Alexander, Mark, and Daniel Go.!
Thank you all for your support on Patreon.
Also, I want to thank a few generous donors that supported me while I streamed with bit cheers and donations this month: MrAcidish, grecher, 2211kp, Tondorian, blacksl95, rmnrai, om__r, kemshetron, addikit, tigurus_fay, germangeorge, dreadfullydespized, tuireanntv, supergamemaker, homonormative, nanoaquila, shieldgenerator7 and Ivena. Thank you!
And finally, I want to thank the viewers who subbed to me on Twitch Dev Stream and all the viewers who tune in daily to check on my progress. Without you guys I really wouldn't have worked as hard. Thanks for joining me on this journey!
And as always be sure to join me on Discord to keep up with me on a daily basis:
Hit that "Like" button below to quickly leave me your feedback, but be sure to login first so I know its you! And feel free to write a comment below, let me know your thoughts! See you on the Twitch Dev Stream!
Like

70
Liked by

thephantom

LagunaX1

cruor99

Tondorian

Ivena

MrAcidish
Comments
Post Comment
You need to
Login
in order to comment.